A Day in the Life with Angie Thacker, Olympian-Turned-Accounting-Professional
Meet Angie Thacker: an accounting professional with over 20 years of experience, and one of Maggy London's most loyal customers! Angie spends workdays in her office at MarketReasearch.com in Rockville, Maryland where professional workwear is a must.
After attending the University of Nebraska on a full-time Track & Field scholarship, Angie moved on to become...you guessed it — an Olympian! She competed in the 1984 Olympics in Los Angeles where she placed 4th in the Long Jump.
With a love for travel, some of Angie's favorite spots include South Africa and Thailand. Her most recent adventure? A trip to Singapore! In her free time, she loves to garden, cook and work out. She is even a certified Zumba instructor!
Keep reading to see what this busy boss lady needs to get through her day...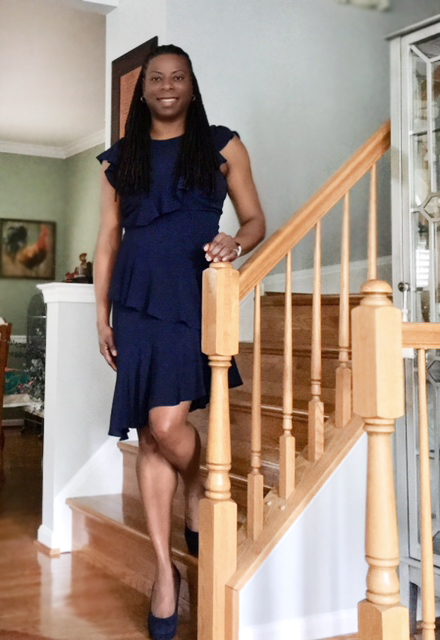 Awake, but not out of bed yet. It's a good time to catch up on news and social media...and decide what to wear for the day! Whenever I wear a dress to work, I know that I'll look great and feel comfortable at the office (which is important to me).
Head downstairs to grab my necessities before heading out. What might that be? Water, water and more water! I try to drink 48 to 64 ounces a day.
A cup of warm lemon water and honey (my special tea) and then it's off to work! My commute is 45-50 minutes. I know that sounds long, but I like to listen to music (yes, I sing along the way) which makes the time go by quickly. If the traffic gods are on my side, I'll have time to stop at the office café for a veggie omelet. Yum!

I'm eating a veggie omelet and reading emails to see if something needs my immediate attention. I'm new in my role at MarketResearch.com (MRDC). After being with my previous employer for 20 years, it feels like new life has been breathed into my career. It's an exciting time for me!

Heading to our leadership team meeting! Our CEO holds a weekly meeting with the leadership team from Sales, HR, Content, IT, and Accounting. The meeting is an informal roundtable that gives each participant insight into the primary focus and deliverables of their peers. For me, it's a good introduction to the world of MRDC and provides me with key takeaways to discuss during one-on-one followup sessions later in the week.
I like to take a brisk walk during lunch. Today I'm eating at my favorite Asian cafe. They have great Pad Thai! After lunch I'll head back to the office to finalize reports for a meeting later this afternoon.
Great meeting…now I'll wrap up a few final deliverables before heading out for the day. A good work out will help me relax later when I'm home, so I think I'll head to the gym.
Whew! I'm home and just as I thought...nice and relaxed. I grabbed a salad on the way home from the gym. After eating I think I'll catch up on the backlog of recordings on the DVR before heading to bed. Today was a good day!
Want to see YOUR photos here? Tell us about yourself! Who are you? What does a typical day in your life look like? How does your favorite Maggy London dress help you do it all?